If quality CBD oil is what you want, then you should check out what CBD Lion has to offer. They have a wide variety of products that use organic and high-quality ingredients. The company is transparent, especially on its third-party lab results. It's been in the industry since 2017 and is led by medical and recreation experts, so you can guarantee that you'll be getting quality at a fair value.
In this brand review, we'll give you a better view of what makes CBD Lion better than others and why you should consider giving it a try.
Company Score
96 out of 100
CBD Lion is a popular CBD company known for its products and their quality. Their products are made with organic and high-quality ingredients. The company shows transparency as they give details about their hemp source and products. They also have their third-party lab results posted on their website.
As for the downside, its website still has more areas to improve including disclosing information about its extraction method and mission statement. Its return policy is also pretty uptight by requiring customers to pay a 30% restocking fee for product returns.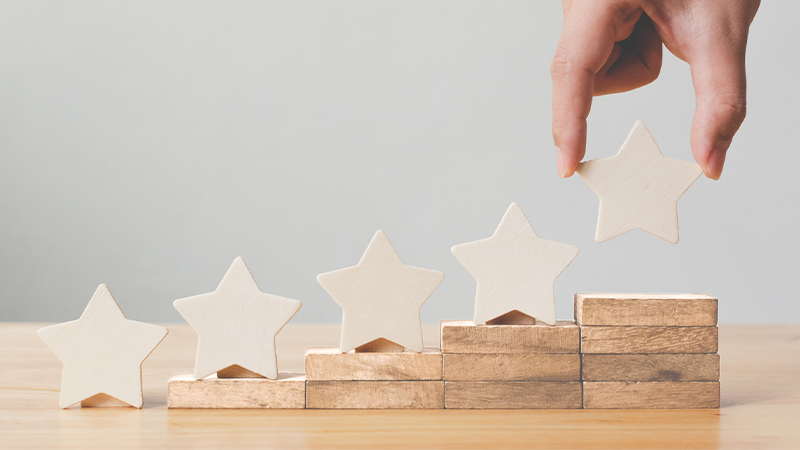 1. Transparency Score
23 out of 25
The company shows good transparency. They have important details posted and mentioned on their website, including their product details, hemp source, and lab test reports.
2. Product Selection Score
25 out of 25
This is where the company scores big. They have a good selection of products that their customers can choose from.
3. Customer Service Score
24 out of 25
Their customer service is reliable as customers are pleased that they can reach them without fuss. Contact information is readily available on their website. Best of all, customer service responds quickly to the concerns and inquiries of customers.
4. Hemp Source Score
24 out 25
Hemp information is shared on their website. This is important as customers want to know what is used in the products they are using.
Company Details: About CBD Lion
Here are other details about CBD Lion that will tell a lot about the kind of company they are.
Hemp Source
CBD Lion gets its hemp from local farms in Colorado, Kentucky, and Oregon. They deal with farms that are registered with the states and regularly inspected for quality and safety. In addition, these states are known to be the best places to grow hemp organically.
Testing & Quality Control
The company runs its products through independent third-party labs to ensure potency and safety. These results are available on the website for customers to view. The company also puts lab test QR codes on the product packaging for convenience among its customers.
Contact Details: How to Get in Touch
You can get in touch with the CBD Lion team through the company's official website, cbdlion.com. It also provides customer service through different platforms. You can reach them through email at [email protected] or by phone at (833) 223-2329. The team typically responds fast, and this pleases their customers.
Pros & Cons of CBD Lion
Customers need to know the good and bad points of the company, so they will know whether it is worth ordering from them or not. Here are the pros and cons of CBD Lion.
Pros of CBD Lion
Relatively low prices;
Wide variety of CBD products;
Uses organic and non-GMO ingredients;
Uses full-spectrum, broad-spectrum, and CBD isolate; and
Third-party testing of all products.
Cons of CBD Lion
Shows a few outdated lab results;
The website is not easy to navigate; and
A 30% restocking fee on returns is a requirement.
2022 Product Reviews: CBD Lion
Here are the company's best-selling products:
1. CBD Gummies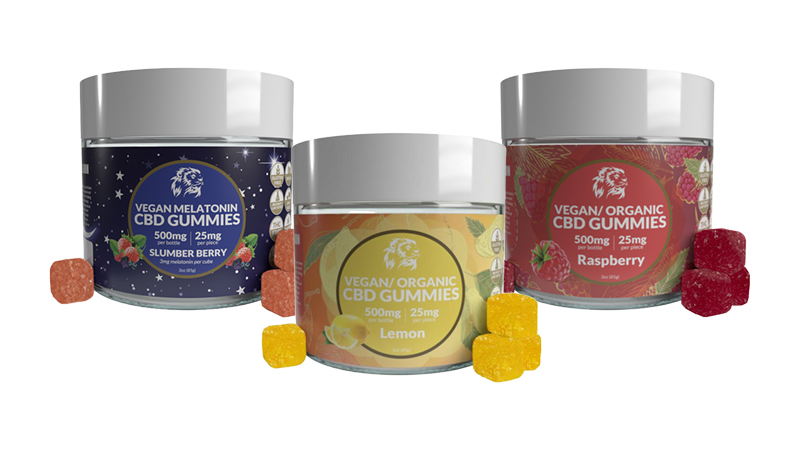 If you're looking for a fun and delicious way of taking CBD into your daily routine, then CBD Gummies might work best for you. These little cubes come with a range of benefits that include reducing stress levels, relieving body pain and inflammation, and improving your overall mood.
CBD Lion's gummies are made with organic fruit juice, with each gummy containing 25mg of CBD Isolate. This level of potency is ideal for CBD users who are still starting with taking CBD — it's not overwhelming but buildable. You can choose from three flavors: lemon, raspberry, and strawberry.
This product line also comes with another variant — CBD Gummies infused with Melatonin. If you want a product that can help you achieve good quality sleep, then you should check out this product. An additional 3mg of melatonin combined with mixed berry extract for flavoring is added to every gummy. Melatonin is a hormone that regulates your sleep-wake cycle.
2. CBD Lotion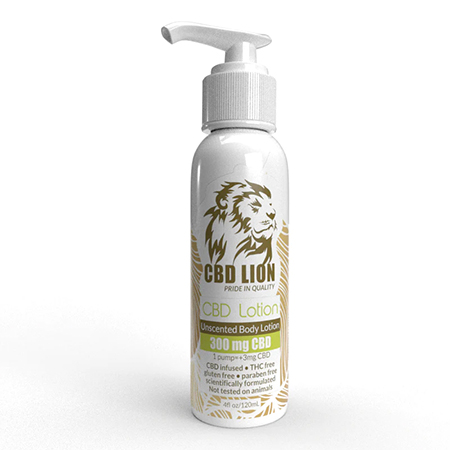 CBD lotion is one of the most popular CBD product types for a reason. It's a topical product made easy and convenient to get your daily dose of CBD, especially if you're struggling with pain or inflammation.
CBD Lion's lotion comes in an airless pump bottle with two formulations to choose from, including full-spectrum and isolate. Each pump contains 10mg of CBD, and you can buy the product in 500mg or 1000mg. This product can be used every 4-6 hours or as needed.
This product line is unscented, which may not be suitable for those who prefer scented lotions. Regardless, this product contains organic ingredients that provide relief from various skin conditions while also reducing inflammation and promoting healing. It's also vegan-friendly and gluten-free.
3. CBD Oil Tincture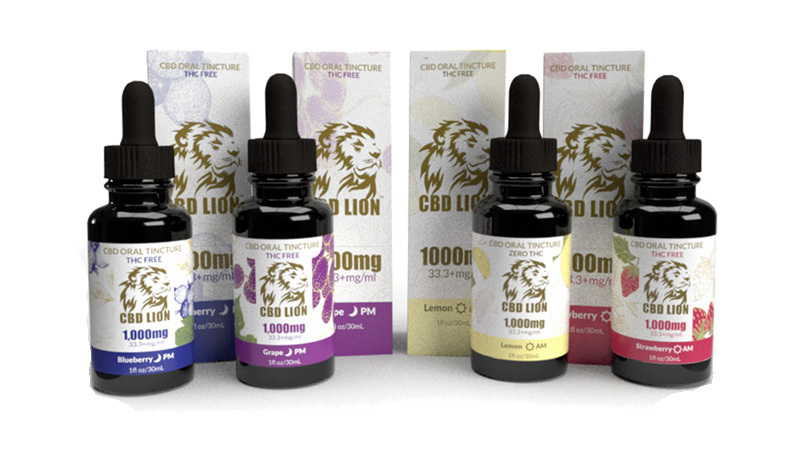 CBD oil tincture is a good product for those looking for a convenient way to take CBD into their daily regimen. This product comes in a dropper bottle with a graduated dosage system that makes it easy to measure your serving size.
This product comes in 250mg to 5000mg potencies per 30mL bottle. It's also available in three formulations. You can choose from full-spectrum, broad-spectrum, and CBD isolates. If you prefer flavored tinctures, its 1000mg variant comes in lemon, strawberry, blueberry, or grape flavoring.
This product can be bought individually or by sets — an ideal choice if you want to explore the flavor options. The company recommends starting with one drop twice daily and gradually increasing the dose as needed. If you're looking for a product without any psychoactive effects, then these are the products for you.
Read more: CBD Oil for Anxiety: Top Brands 2022
4. CBD Chocolate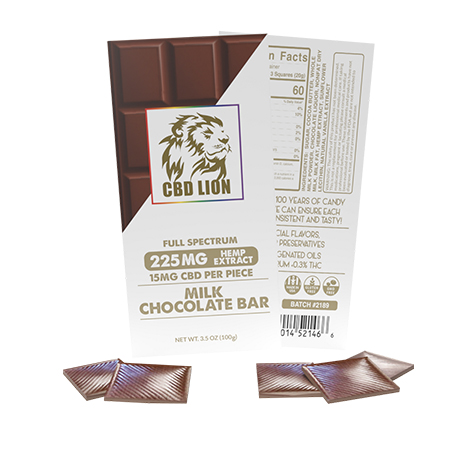 Chocolate and CBD are two of the best things in the world. When the two are combined into one delicious product, what's not to love?
CBD Chocolate is the latest addition to the CBD Lion's edible line. It is available in two flavors: dark chocolate and milk chocolate. Each bar contains 225mg of full-spectrum CBD extract, giving each serving size (one square) 15mg of CBD. The dark chocolate variant comes with organic cacao and is 100% dairy-free. The milk chocolate has organic cane sugar and whole milk powder.
Both products are GMO-free, gluten-free, and vegan. Although, it may not be wise for those living in warm places to purchase the product unless you avail of the priority shipping option. Overall, CBD Lion's chocolate is a great way to get your daily dose of CBD while also indulging in a delicious treat.
5. Hemp Flower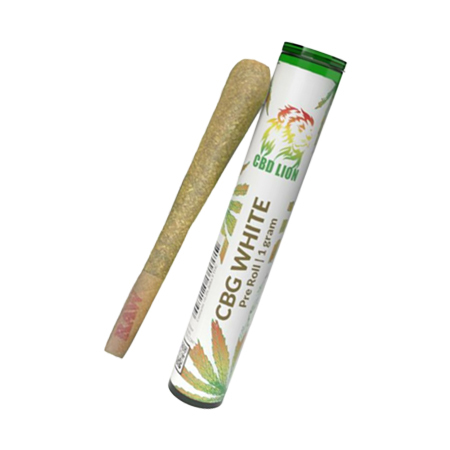 Hemp Flower is a product that's becoming increasingly popular, and it's easy to see why. This natural product can be smoked, vaped, or used in teas and has a range of benefits, including reducing stress levels, relieving pain and inflammation, and improving your overall mood.
CBD Lion has two types of hemp flowers to choose from: pre-rolls and powdered CBD isolate. The pre-rolls come in packs of two, and each joint contains 1g of hemp flower. It is available in two flavors: CBG White and Sour Space Candy. The CBG White gives vanilla and flowery notes, while the Sour Space Candy has a sour and sweet taste. These use a combination of CBD, CBDA, CBG, CBC, and THC, but CBG White has more CBG content.
CBD Isolate is what CBD Lion uses for its products. It can be enjoyed taken directly or mixed into food to customize your preferred dosage. Whether you prefer the pre-rolls or the powdered form, CBD Lion's hemp flower is a great way to enjoy the benefits of CBD naturally.
6. CBD Treats for Pets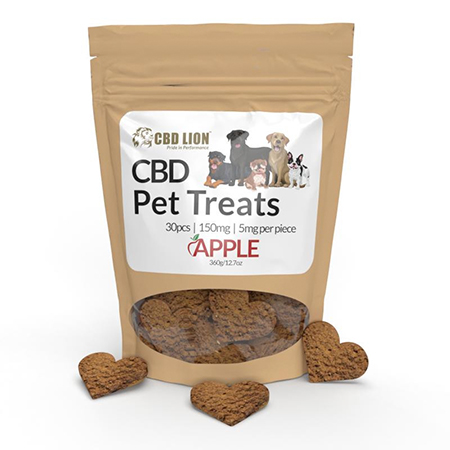 CBD pet treats will provide your furry friend with the benefits of CBD without the fuss. Each treat gives 5mg of full-spectrum CBD. This product is organic, gluten-free, and vegan-friendly.
These treats have two flavors: cinnamon oat and apple. It can be bought by 5s or by 30s, whichever you prefer. This product doesn't only help provide relief, but it can also improve your pet's overall health. This product can benefit pets suffering from anxiety, joint pains, or lack of appetite.
If your pet hates the taste of tinctures, then they will love these treats because of their flavor. However, it has limited and weaker potency than tinctures, but it's a great option to start your pet's CBD journey.
How to Order From CBD Lion
There are different ways to order CBD Lion's products. These are:
Ordering Online
You can order CBD Lion products online through its website, cbdlion.com. Purchasing directly on the company website is always better to ensure brand new stocks. You can also avail of the discounts the company offers from there.
Buying From Local Shops Near You
CBD Lion is also accessible in a few local shops. To find a shop near you, use the store locator on cbdlion.com or simply type CBD Lion near me on Google and shop recommendations will pop up.
Where Will CBD Lion Ship?
CBD Lion ships to all 50 US states. Although some of its products are not available in certain areas due to state laws prohibiting them. For example, the CBD Oil Tincture cannot be shipped to Idaho, New Hampshire, and South Dakota. The same goes with the Hemp Flower, which is not allowed in some states such as Iowa, Kentucky, Idaho, etc.
You can find more about which products are available in your area on the company website.
Price Comparison: How Does This Brand Compare to the Competition?
CBD Lion is a more affordable brand as compared to some of the top-rated CBD companies. For example, their CBD Oil Tincture costs $42.99 for a 500mg bottle. Other brands charge this product over $100 but with lower dosages.
However, it's important to note that despite having relatively low prices, the quality of the ingredients used is still guaranteed. CBD Lion is one of the few CBD companies that is known for selling organic products.
Conclusion: Final Review
Overall, CBD Lion is a great brand where you can get quality products at an affordable price. If you're looking for organic CBD products, then this is the brand for you. This company has an extensive range of products that are tested by third-party labs.
Although its website still needs some polishing, some products have outdated lab results, and it requires the customer to pay up to 30% restocking for product returns. Regardless, if you prefer to trust a brand that's been in the industry since 2017, then CBD Lion is worth the try.